Handmade mini chicken pies Mini Pies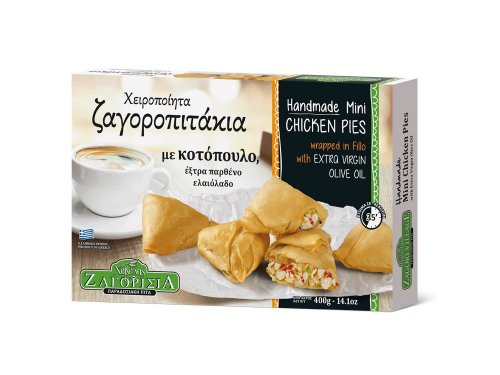 With extra virgin olive oil
Description:
Ready to bake. No defrosting required!
Baked in the oven with the tray included in the packaging.
Cooking Instructions:
Fried: Directly from the freezer into the frying pan.
Baked: Preheat the oven to 180oC. Remove the mini filo pies from the freezer, put them directly in the oven and bake for about 35 minutes. Adjust baking time and temperature according to the oven.
Ingredients:
Dough : Wheat flour,water, corn starch, salt.
Filling :Chicken, rice, green pepper , red pepper , gouda cheese (milk  pasteurized, rennet, beta-carotene, calcium chloride, salt) leek, onion, vegetable oil (extra virgin olive oil (5,8%), sunflower oil), vegetable margarine [vegetable oils (seed oil, sunflower oil) and vegetable fat (palm oil) in varying proportions, water, emulsifiers: mono-and diglycerides of fatty acids], parsley (1,8%), dill (0,8%), salt, pepper.
Preserve Instructions:
In the freezer at -12oC for one month.
In the freezer at -18oC until expiration date.
Attention:
If the product is defrosted should not be frosted again.